CHICAGO – With "The Suicide Squad", writer / director James Gunn and Warner Bros. Pictures has received worldwide acclaim for creating what many consider to be the best DC Universe film of all time. For the creators and producers of unique multi-media production company Sarofsky, this was their third James Gunn superhero action adventure, following "Guardians of the Galaxy" and "Guardians of the Galaxy Vol. 2 ". Once again, the mission presented atypical challenges for Sarofsky's expertise in typography, motion design, VFX blockbuster, and storytelling on a colossal scale.
To set the wheels in motion, with editor Fred Raskin ACE ("Once Upon a Time … in Hollywood", "Guardians of the Galaxy", "Guardians of the Galaxy Vol. 2", "The Hateful Eight" ), Gunn invited Executive Artistic Director Erin Sarofsky and Creative Director Duarte Elvas to project a cut and discuss the mission. "Our discussion focused on creating titles that are bold, colorful, and work with the dynamic underlying imagery," said Sarofsky. "We talked about a modern / vintage vibe … something that is very current but also has a nostalgic sensibility."
"James was clearly looking for treatments reminiscent of the caper war movies of the 1960s," Elvas added. "So we looked at titles made for movies like 'The Dirty Dozen,' 'The Great Escape,' and 'The Guns of Navarone,' and that really informed our exploration." This initial briefing also identified a few other opportunities. Design: for the final crawl, the subtitles and to stylistically integrate the WB and DC intro logos.
Fast forward to the opening seconds of the finished film when viewers see Sarofsky's stylized logo treatments, the distinctive Osprey plane appearance, prison walls, and a logo tinted with yellow and fuchsia, they are instantly transported to the film's metaverse.
Further on, the main sequence begins mid-military operation as Task Force X (a collection of degenerate DC offenders, categorized by Bloodsport, Peacemaker, Harley Quinn, Col. Rick Flag, Ratcatcher 2, King Shark, and Polka- Dot Man) invades the island of Corto Maltese, steeped in enemies. Mirroring the bold typeface of the title card "The Suicide Squad" and its highlighted color scheme, the title credits begin to appear during phase two of the Sneaky Beach Arrival. As the band come together, the track's treatment appears as a backdrop, until The Jim Carroll Band's oddly upbeat track "People Who Died" kicks in, triggering a quicker edit. The opening credits unfold through this sequence, which grotesquely chronicles the dead and dying, as Mission Control agents ruthlessly settle the bets based on the growing death toll.
To further shed light on their creative contributions and more details on their latest date with Gunn and his "horribly beautiful mind," Sarofsky, Elvas, and their colleagues revealed a few other key insights.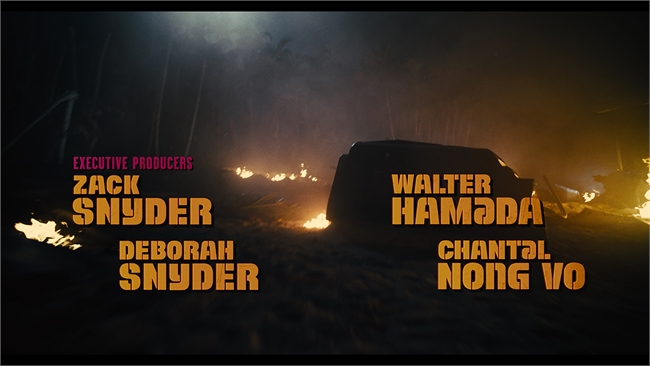 PERSONALIZED TYPE, SPECIAL TREATMENTS AND MORE
According to Sarofsky, James Gunn sees design in his films as another character – which is why typography has been a staple of their collaborations. This time around, to match The Suicide Squad's existing logo while embracing the vibe of period war movies, the Sarofsky team dove into 1960s movies, print ads, album covers. , vintage fonts and whatever else they could find.
"For this job, the best tool we had available was our years of typography expertise and our ability to solve readability issues on an intentionally loaded background," Sarofsky explained. "After a few laps of exploration with the filmmakers, we landed on Alpha Midnight, a 1969 typeface designed by Hiroshi Yamashita, to inspire us. We finally changed it so much that it could be its own unique font. "
Sarofsky continued, "To meet the challenge of creating a lot of different elements for the film, it was really important for us to make sure that all the executions were linked to each other, while still working well for where they were. found in the film. "
With the type set in their custom version of Alpha Midnight for every moment in the main title, for every scene requiring a caption, and for the final crawl, the creators of Sarofsky then added more artistry to visually tie into the footage. war of the 1960s.
"The steps we took to make the titles appear as though they were optically printed on actual film were critical to making it look like a 1960s movie," Elvas said. "To be perfect, each graphic required at least a dozen Adobe After Effects layers, including textures, grain, chips, bevels, and drop shadows. There is also a very subtle grid weave for it. all graphics that further emulates the film effect. "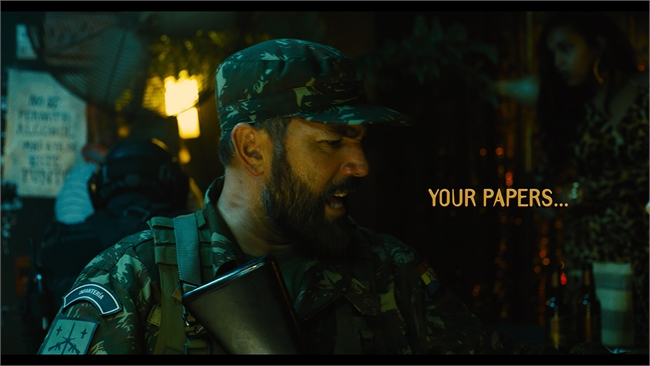 With Adobe Illustrator used for the design and character setup, After Effects served the team for look, layouts, and animation development. The Sarofsky-approved end-of-crawl designs were provided to Scarlet Letters, who defined the typography and animated the parchment.
Studio credits for this project also include executive producer Steven Anderson, producer Dylan Ptak, VFX and finishing supervisor Cory Davis, and host / designers Josh Smiertka, Cat McCarthy, Andrei D. Popa, Andrea Braga, Tanner Wickware, Jake Allen and Matt Miltonberger. The final color is courtesy of Company 3.
"Our ability to fit directly into the VFX pipeline for major film post-production is a huge source of pride for us here at Sarofsky," concluded Anderson. "Our well-established workflow allows us to contribute footage rendered in all the right specifications, and thanks to our experienced team, our work is not only amazing, but it fits in perfectly. That's quite a feat for one. such a phenomenal film by one of the world's greatest filmmakers. "